Gerard BANNENBERG
Solutex
Avenida de Barajas 24
28108 Alcobendas, Madrid, Spain
Tel + 34 91 8060477
Fax + 34 91 8060605
Contact: gbannenberg@solutex.es



Xavier NOREL
INSERM U698, Bichat Hospital
Hematology, Bio-engineering and Cardiovascular Remodeling
46, rue Henri Huchard
75018 Paris, France
Tel: + 33 (0)1 40 25 75 29
Fax: + 33 (0)1 40 25 86 02
Contact: xnorel@hotmail.com


Joan CLÀRIA
Department of Biochemistry and Molecular Genetics
Hospital Clínic/IDIBAPS
Villarroel 170
08036 Barcelona, Spain
Tel: 34-93-2275400 ext 2814
Fax: 34-93-2275454
Email: jclaria@clinic.ub.es
Lhousseine TOUQUI
INSERM U874
Défense Innée & Inflammation
Institut Pasteur
25, rue du Dr Roux
75015 Paris, France
Tel: + 33 (0)1 45 68 86 84
Email: lhousseine.touqui@pasteur.fr
under the auspices of the GREMI: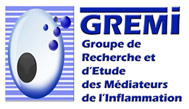 Nathalie Castex-Rizzi, Centre de R&D Pierre FABRE, Toulouse.
Michel Chignard, INSERM U874, Institut Pasteur, Paris.
Sylvie Chollet-Martin, CHU X. Bichat; INSERM U756, Fac. de Pharmacie de Paris XI.
Isabelle Couillin, CNRS6218, Université Orléans.
Jamel El Benna, INSERM Unité U773, Faculté de médecine X. Bichat, Paris.
Vincent Lagente, INSERM U620, Université Rennes 1.
Emmanuel Letavernier, INSERM U702, Hôpital Tenon, Paris.
Florence Niedergang, CNRS UMR88104, Institut Cochin, Paris.
Françoise Pons, EA 3771, Université Louis Pasteur, Illkirch.
Mustapha Si-Tahar, INSERM U874, Institut Pasteur, Paris.
Nathalie Vergnolle, INSERM U563, Toulouse.
Véronique Witko-Sarsat, INSERM U845, Hôpital Necker, Paris.