Our Donors:
Breaking News and Latest Anounsements
Discussion of future directions and current knowledge after 8EWLM session on resolution of Inflammation
Authors:
Rådmark Olof, Kolmert Johan, Säfholm Jesper, and Dahlén Sven-Erik
posted on May 26th, 2023
____________________________________________________________________
The Global Organization for EPA and DHA Omega-3s (GOED) has been building a comprehensive, searchable database of all interventional human studies on EPA and DHA — almost 4,000 studies! The Clinical Study Database has been completed and includes two different sections:
Abstract Search: Includes details on whether the studies are positive, negative or neutral (according to abstract outcomes), plus associated keywords, influential study authors and relevant journals.
Advanced Search: Includes data on every outcome from a given study, is fully searchable and can be filtered by variables.
Have a look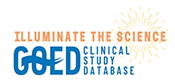 ____________________________________________________________________
Two open PhD positions (Biology or Analytical Chemistry) in the group of Prof. Dr. Schebb - Faculty of Mathematics and Natural Sciences, University of Wuppertal, Germany. LINK to APPLY
One PhD aims to develop and apply liquid new chromatography (LC) and gas chromatography (GC) methods coupled to MS for the characterization and quantification of lipids and other cellular metabolites. Both targeted as well as non-targeted metabolomics are applied to evaluate the effects of diet food ingredients.

A second PhD project aims to aims to employ human primary cell culture of leucocytes (neutrophils, monocyte-derived macrophages) to evaluate the (anti)-inflammatory effects of food ingredients. Biological endpoints such as phagocytosis and cytokine release are correlated with the levels of lipids and other cellular metabolites.
____________________________________________________________________
New PhD position
Call for applications 2022
Host institution: IDIBAPS - Inst.Investigacions Biomèdiques August Pi i Sunyer
Biochemistry and Molecular Genetics - Hospital Clínic
Centre Esther Koplowitz (CEK)
Rosselló, 149-153, 3rd floor
08036, Barcelona, Spain

Discussion of future directions
and current knowledge after
8EWLM session
on Resolution of Inflammation
Authors:
Rådmark Olof, Kolmert Johan,
Säfholm Jesper, and Dahlén Sven-
Erik, posted on May 26th, 2023